Let our Bucket List Concierge™ Team plan your dream vacation now!
Contact Us
This Week's Holland America Top Ten Sale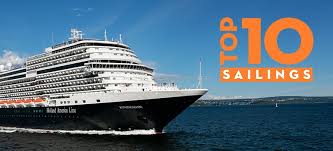 Prices Expire April 16, 2018

This week Holland America returns with its "Top Ten" Sale, 10 fantastic itineraries. Prices expire April 16, 2018.
Choose from exceptional worldwide 7 to 21+-day voyages to Europe, Alaska, New England & Canada, the Panama Canal and Bermuda.
To find out more about these cruises, please contact us right away at 804-557-3006 or toll-free at 855-GOBUCKET [855-462-8253] send us an email @ info@gobucketlisttravel.com .
Prices expire April 16 on these wonderful reduced priced cruises.
Call us today at 804-557-3006
Cruises are subject to availability at the time of booking. Prices do not include applicable port charges.
Prices below are per person. Staterooms subject to availability. Port charges may apply.
| ALASKA | | SHIP | FROM | DATE | INSIDE- | OCEANVIEW- | BALCONY- | MINI-SUITE |
| --- | --- | --- | --- | --- | --- | --- | --- | --- |
| 14-DAY ALASKAN EXPLORER | | ZAANDAM | SEATTLE RTP | 05/07/18 | $949 | $1,049 | $2,149 | $5,699 |
| 7-DAY INSIDE PASSAGE | | VOLENDAM | VANCOUVER RTP | 05/09/18 | $499 | $549 | $999 | $1,199 |
| 7-DAY INSIDE PASSAGE | | VOLENDAM | VANCOUVER RTP | 05/16/18 | $699 | $749 | NA | $1,399 |
| 14-DAY ALASKAN EXPLORER | | ZAANDAM | SEATTLE RTP | 05/21/18 | $999 | $1,049 | $2,199 | $5,799 |
| 14-DAY ALASKAN EXPLORER | | ZAANDAM | SEATTLE RTP | 06/04/18 | $1,099 | $1,199 | $2,499 | $5,899 |
| 7-DAY INSIDE PASSAGE | | VOLENDAM | VANCOUVER RTP | 09/12/18 | $1,179 | $1,249 | NA | $2,309 |
| ATLANTIC COAST | | SHIP | FROM | DATE | INSIDE- | OCEANVIEW- | BALCONY- | MINI-SUITE |
| 10-DAY ATLANTIC COAST | | VEENDAM | FT LAUDERDALE-MONTREAL | 04/25/18 | $549 | $599 | NA | $1,199 |
| BERMUDA | | SHIP | FROM | DATE | INSIDE- | OCEANVIEW- | BALCONY- | MINI-SUITE |
| 7-DAY BERMUDA CRUISE | | VEENDAM | BOSTON RTP | 05/12/18 | $549 | $599 | $999 | $1,399 |
| 7-DAY BERMUDA CRUISE | | VEENDAM | BOSTON RTP | 05/19/18 | $599 | $649 | NA | $1,749 |
| 7-DAY BERMUDA CRUISE | | VEENDAM | BOSTON RTP | 06/09/18 | $699 | $749 | $1,519 | $1,649 |
| 7-DAY BERMUDA CRUISE | | VEENDAM | BOSTON RTP | 06/16/18 | $699 | $749 | NA | $1,919 |
| CANADA & NEW ENGLAND | | SHIP | FROM | DATE | INSIDE- | OCEANVIEW- | BALCONY- | MINI-SUITE |
| 7-DAY CANADA & NEW ENGLAND | | VEENDAM | BOSTON-MONTREAL | 05/26/18 | $499 | $549 | $999 | $1,299 |
| 7-DAY CANADA & NEW ENGLAND | | VEENDAM | BOSTON-MONTREAL | 07/06/18 | $1,179 | $1,429 | $1,899 | $2,039 |
| 7-DAY CANADA & NEW ENGLAND | | VEENDAM | BOSTON-MONTREAL | 07/21/18 | $949 | $1,229 | $1,619 | $2,799 |
| 7-DAY CANADA & NEW ENGLAND | | VEENDAM | BOSTON-MONTREAL | 08/18/18 | $1,069 | $1,339 | $1,579 | $3,009 |
| 7-DAY CANADA & NEW ENGLAND | | VEENDAM | BOSTON-MONTREAL | 09/01/18 | $1,399 | $1,429 | $2,029 | $2,489 |
| 7-DAY CANADA & NEW ENGLAND | | VEENDAM | BOSTON-MONTREAL | 09/15/18 | $1,289 | $1,409 | $2,089 | $2,839 |
| 7-DAY CANADA & NEW ENGLAND | | VEENDAM | BOSTON-MONTREAL | 09/29/18 | $1,289 | $1,389 | $2,389 | $3,079 |
| NORTHERN EUROPE | | SHIP | FROM | DATE | INSIDE- | OCEANVIEW- | BALCONY- | MINI-SUITE |
| 10-DAY BALTIC CRUISE | | ZUIDERDAM | COPENHAGEN RTP | 05/10/18 | $999 | $999 | $1,199 | $2,399 |
| 14-DAY NORWAY CRUISE | | KONINGSDAM | AMSTERDAM RTP | 05/10/18 | $1,299 | $1,999 | $2,499 | $3,499 |
| 10-DAY BALTIC CRUISE | | ZUIDERDAM | COPENHAGEN RTP | 06/03/18 | $119 | $1,199 | $1,399 | $2,699 |
| 10-DAY NORTH SEA CRUISE | | ZUIDERDAM | COPENHAGEN RTP | 06/13/18 | $999 | $1,099 | $1,599 | $2,399 |
| 10-DAY BALTIC CRUISE | | ZUIDERDAM | COPENHAGEN RTP | 06/27/18 | $1,589 | $1,799 | $1,999 | $3,249 |
| 10-DAY BALTIC CRUISE | | ZUIDERDAM | COPENHAGEN RTP | 07/21/18 | $1,799 | $1,999 | $2,299 | $3,449 |
| 10-DAY BALTIC CRUISE | | ZUIDERDAM | COPENHAGEN RTP | 08/14/18 | $2,019 | $2,299 | $2,749 | $3,549 |
| PANAMA CANAL | | SHIP | FROM | DATE | INSIDE- | OCEANVIEW- | BALCONY- | MINI-SUITE |
| 20-DAY PAMANA CANAL EAST | | MAASDAM | SAN DIEGO-BOSTON | 04/22/18 | $999 | $1,099 | NA | NA |
| 17-DAY PANAMA CANAL WESTBOUND | | AMSTERDAM | FT LAUD-SEATTLE | 05/10/18 | $1,099 | $1,199 | NA | $2,499 |