Let our Bucket List Concierge™ Team plan your dream vacation now!
Contact Us
Holland America Top-10 Specials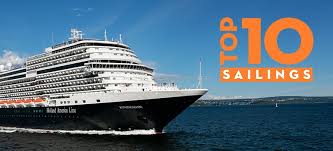 This week Holland America is showcasing ten January and February sailings. Prices expire December 11, 2017.
Imagine seeing the Panama Canal on a 10-day cruise starting at only $749! Or spending 13 days exploring New Zealand for only $849.
To find out more about these cruises, please contact us right away at 804-557-3006 or toll-free at 855-GOBUCKET [855-462-8253] send us an email @ info@gobucketlisttravel.com .
Prices expire December 11 on these specially priced cruises.
Call us today at 804-557-3006
Cruises are subject to availability at the time of booking. Prices do not include applicable port charges.
Prices below are per person. Staterooms subject to availability. Port charges may apply.
| NEW ZEALAND / AUSTRALIA | | SHIP | FROM | DATE | INSIDE- | OCEANVIEW- | BALCONY- | MINI-SUITE |
| --- | --- | --- | --- | --- | --- | --- | --- | --- |
| 13 DAY NEW ZEALAND | | MAASDAM | AUCKLAND | 01/05/18 | $849 | $899 | NA | NA |
| 12 DAY SOUTHERN AUSTRALIA | | NOORDAM | SYDNEY | 01/20/18 | $999 | $1,099 | $1,399 | $2,499 |
| BRAZIL | | SHIP | FROM | DATE | INSIDE- | OCEANVIEW- | BALCONY- | MINI-SUITE |
| 12 DAYS BRAZIL | | ZAANDAM | BUENOS AIRES | 02/19/18 | $999 | $999 | NA | $1,999 |
| EASTERN CARIBBEAN | | SHIP | FROM | DATE | INSIDE- | OCEANVIEW- | BALCONY- | MINI-SUITE |
| 7 DAY EASTERN CARIBBEAN | | VEENDAM | FT LAUDERDALE | 01/10/18 | $399 | $429 | $599 | $799 |
| 7 DAY EASTERN CARIBBEAN | | VEENDAM | FT LAUDERDALE | 03/28/18 | $499 | $529 | $699 | $999 |
| SOUTHERN CARIBBEAN | | SHIP | FROM | DATE | INSIDE- | OCEANVIEW- | BALCONY- | MINI-SUITE |
| 10 DAY SOUTHERN CARIBBEAN | | EURODAM | FT LAUDERDALE | 02/04/18 | $749 | $899 | $1,199 | $2,499 |
| 11 DAY SOUTHERN CARIBBEAN | | KONINGSDAM | FT LAUDERDALE | 01/24/18 | $799 | $999 | $1,399 | $1,999 |
| 14 DAY SOUTHERN CARIBBEAN | | ROTTERDAM | TAMPA | 02/11/18 | $999 | $1,099 | $1,699 | $2,499 |
| PANAMA CANAL | | SHIP | FROM | DATE | INSIDE- | OCEANVIEW- | BALCONY- | MINI-SUITE |
| 10 DAY PANAMA CANAL | | ZUIDERDAM | FT LAUDERDALE | 02/18/18 | $749 | $849 | $1,299 | $1,699 |
| FAR EAST | | SHIP | FROM | DATE | INSIDE- | OCEANVIEW- | BALCONY- | MINI-SUITE |
| 15 DAY FAR EAST DISCOVERY | | VOLENDAM | SINGAPORE | 01/16/18 | $1,399 | $1,499 | NA | NA |