Bucketeer 7 Night Oceania Cruise to Cuba October 2018


Let our Bucket List Concierge™ Team plan your dream vacation now!
Contact Us
Bucketeer 7 Night Oceania Cruise to Cuba October 2018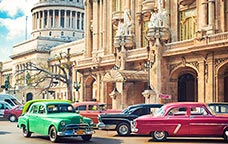 SOLD OUT - WAIT LIST ONLY
Our October 3, 2018 sailing to Cuba on the Oceania Sirena is Sold Out
We will accept waiting lists as staterooms become available..
Call us today at 804-557-3006
Oceania's Cuba - 2017 Schedule
Get ready to enjoy the quintessential Cuba experience aboard the Oceania INSIGNIA as she cruises from Miami this winter for November and December voyages to Cuba
Oceania takes you there in comfort and style in a casually sophisticated atmosphere, allowing you to spend your days and evenings exactly as you wish. Relax on board our luxurious ships and savor exquisite cuisine that not only is renowned as the finest at sea, but also rivals the best restaurants ashore.
Whether savouring Oceania's gourmet cuisine, immersing yourself in Cuban culture ashore or enjoying five-star service on board, you will cherish every moment of these incredible and meaningful voyages, adding to your personal treasure of enriching travel experiences.
Cruise-Only or OLife Choice Fares
OLife Choice fares include
FREE AIRFARE* and unlimited Internet
PLUS your choice of
Free 4 to 8 Shore Excursions depending on voyage
Free Beverage Package
$400 to $800 Shipboard Credit depending on the voyage
Scheduled 2017 Cruises
| DATE | VOYAGE |
| --- | --- |
| November 14, 2017 | 10 DAYS, MIAMI, HAVANA, ROATAN, SANTO TOMAS, HARVEST CAYE, COSTA MAYA, NASSAU, MIAMI |
| November 24, 2017 | 7 DAYS, MIAMI, KEYWEST, HAVANA, CIENFUEGOS, SANTIAGO DE CUBA, MIAMI |
| December 1, 2017 | 7 DAYS, MIAMI, HAVANA, CIENFUEGOS, SANTIAGO DE CUBA, MIAMI |
| December 8, 2017 | 7 DAYS, MIAMI, HAVANA, CIENFUEGOS, SANTIAGO DE CUBA, MIAMI |
| December 15, 2017 | 6 DAYS, MIAMI, KEYWEST, HAVANA, COZUMEL, GREAT STIRRUP CAY, MIAMI |
| December 21, 2017 | 13 DAYS, MIAMI, KEY WEST, HAVANA, ROATAN, SANTO TOMAS, HARVEST CAYE, CPSTA MAYA, COZUMEL, NASSAU, MIAMI |