Let our Bucket List Concierge™ Team plan your dream vacation now!
Contact Us
Oberammergau Passion Play 2022 Specials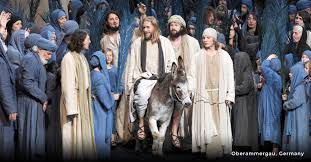 Escorted Tours and Cruise/Tours from $3,699

In 2020, the Oberammergau Passion Play was postponed for just the fourth time in its nearly 400-year history. But preparations remain underway in order to welcome you in 2022.
Our outstanding suppliers are beginning to release their 2022 escorted tours and cruise schedules that include excellent seats at the Oberammergau Passion Play. Several also offer free or low cost economy roundtrip air.
Don't miss this once-a-decade Passion Play in the Bavarian hamlet of Oberammergau. Many travelers had their 2020 trips cancelled, so time is pressing to rebook for 2022.
With a wide range of tour itineraries and departures, we have selected the finest in luxury and popular tours and cruise/tours; there is something for every traveler. Whether or not you originally planned to attend in 2020, we welcome you to plan now for your 2022 event of a lifetime.
Since its first production in 1634, the Passion Play has captivated audiences from around the world. The dramatic retelling of Jesus' life and crucifixion is only performed every ten years. This is your chance to experience the epic event live and in person in 2022.

From the romance and tranquility of the countryside to the energy and excitement of the cities, Germany, Austria, the Czech Republic, Hungary, Netherlands and Switzerland are waiting to immerse you in their history and culture.
There is so much to see. What interests you? Medieval castles? Baroque palaces? Vineyards? Music? WWII history? Cuisine? The Alps? We have tours and cruise tours to match your interests.
The escorted tours and cruises listed below share the best balance for a range of daily activities, quality accommodations, cuisine, cultural immersion and value.
Call for prices. The tours and cruises are priced per person, double occupancy land only. Prices will vary by departure date and tours are always subject to availability. Please call us at 804-557-3006 for current double as well as single and triple rates.
Luxury Escorted Land Tours
7 Days, Prague to Munich. Prague [3N], Oberammergau [1N], Munich [2N] [oprp] 3 Departures: From $4,195 dbl
8 Days, Vienna to Zurich. Vienna [1N], Salzburg [2N], Oberammergau [1N], Munich [1N], Zurich [1N] [gopp] 4 Departures: From $4,995 dbl
Best Popular Escorted Land Tours
8 Days, Munich to Zurich. Oberammergau [2N], Black Forest [1N], Zermatt [2N], Lucerne [2N] [c] 13 Departures: $3,999 dbl
9 Days, Zurich to Munich. Bern [3N], Innsbruck [3] Oberammergau [1N], Munich [1N] [c] 16 Departures: $3,699 - $3,899 dbl
10 Days, Milan to Munich. Lago Maggiore [2N], Zermatt [2N], St Moritz [1N], Innsbruck [2N], Oberammergau [2N], Munich [1N] [c] 38 Departures: $4,999 to $5,199 dbl
11 Days, Budapest to Munich. Budapest [3], Prague [3]N, Vienna [3N], Oberammergau [1], Munich [1] [c] 38 Departures: From $4,199 - $4,699 dbl
13 Days, Vienna to Zurich. Vienna [2N], Salzburg [2N], Oberammergau [2N], Black Forest [1N], Zermatt [2N], Lucerne [2N] [c] 18 Departures: $5,199 - $5,399 dbl
14 Days, Berlin to Munich, Berlin [2N], Hamburg [2N], Marburg [2], Rothenburg [2], Oberammergau [2N], Munich [1N] [c] 16 Departures: $4,999 - $5,199 dbl
Luxury Cruises and Tours
11 Days Budapest to Munich. Cruise from Budapest to Nuremberg [7N], Oberammergau [1N], Munich [2N] [obgn] 3 Departures [July/August]: from $6,590 dbl WITH FREE AIR
15 Days Vienna to Amsterdam. Vienna [1N], Salzburg [2N], Oberammergau [1N], Munich [2N], Zurich [1N], Cruise from Basel to Amsterdam [7N] [goac] 1 Departure [Jun]: From $8,995 WITH FREE AIR
21 Days Amsterdam to Munich. Cruise from Amsterdam to Budapest [14N], Prague [3N], Oberammergau [1N], Munich [2N] [obbs] 3 Departures [Jul/Sep] From $11,190 WITH FREE AIR
22 Days Amsterdam to Zurich. Cruise from Amsterdam to Budapest [14N], Vienna [1], Salzburg [2], Oberammergau [1N], Munich [1N], Zurich [1N] [gost] 4 Departures [May/Jun/Jul]: from $12,495 with

free air
22 Days Vienna to Amsterdam. Vienna [1N], Salzburg [2N], Oberammergau [1N], Munich [2N], Zurich [1N], Cruise from Basel to Amsterdam with Moselle & Holland [14N] [goam] 2 Departures [May/Jul]: From $12,295 WITH FREE AIR
Popular River Cruises and Tours
10 Days Munich to Budapest. Munich [1N], Oberammergau [1N], Cruise from Nuremberg to Budapest [7] or reverse [em ewop] [Economy air $295] 1 Departure [September]: from $5,190 dbl
10 Days, Munich to Budapest. Munich [1N], Oberammergau [1N], Cruise from Regensburg to Budapest [7N] [vk] 10 Departures: From $4,399 dbl
11 Days, Budapest to Munich. Cruise from Budapest to Passau [7N], Oberammergau [2N], Munich [1N] [c] 20 Departures: $4,999 - $5,299 dbl
11 Days Munich to Budapest. Munich [2N], Oberammergau [1N], cruise from Nuremberg to Budapest [7] or reverse [em enop] 7 Departures [June/July]: from $4,540 dbl [Economy air $295]
12 Days Amsterdam to Oberammergau. Cruise from Amsterdam to Basel [7N], Innsbruck [2N], Oberammergau [2N] [vk] 10 Departures: from $5,199 dbl
12 Days Oberammergau to Budapest. Oberammergau [2N], Salzburg [2N], Cruise from Passau to Budapest [7N] [vk] 10 Departures: from $5,299 dbl
12 Days Munich to Amsterdam. Munich [1N], Oberammergau [1N], Innsbruck [2N], Cruise from Basel to Amsterdam [7N] 10 Departures from $4,999 dbl