Let Your Travel Concierge Handle All the Details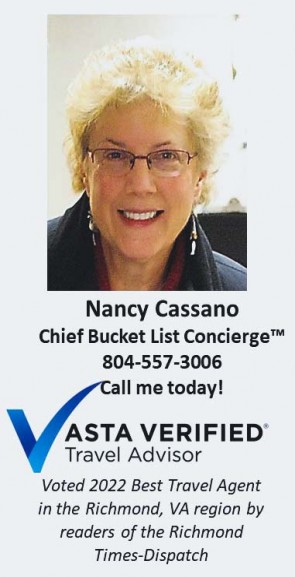 We admit it….We're Travel Junkies. If you have the bug to travel you're a Bucketeer℠ and have come to the right place. The Bucket List Concierge Team℠ travels internationally at least once a year to check out hotels, meet with tour operators and explore the wonders of the world and its people. We have designed memorable Bucketeer Adventure℠ itineraries throughout western Europe as well as Australia and New Zealand, Canada, Central America and throughout the Caribbean and Bermuda.
Europe is our clients' #1 international destination. We know Ireland, UK, France, Germany, Italy, Netherlands and Spain well. For a planning fee of $250 we will craft a custom Bucketeer Adventure℠ for the independent traveler that will thrill you, and we'll handle all the details so you travel worry free.
Go Bucket List Travel invites you to join our many Bucketeers℠ who have fallen in love with international travel and return year after year on our hosted Bucketeer Adventures℠. Your senses will be thrilled with new lovely vistas, bold flavors, stunning art and music that echoes through time, the impact of ancient, middle ages and modern history all around you and a look at life from a different point of view.
Give Us A Call or Send Us an Email Today
Office: 804-557-3006
Whatever your interests, we can handle the details:
Whatever your interests may be: relaxation, cultural immersion, culinary, art appreciation, sports, adventure, or discovery; however you wish to travel: independent, private tours, small escorted groups or larger tour groups, we have you covered.
Our relationships with cultural, travel and hospitality professionals and villa owners in Europe and our first-hand knowledge of both Europe, Canada and Australia and New Zealand give you access to a real travel experience. Whether you are traveling on a budget or looking for luxury, we'll craft a memorable international holiday to suite your tastes, time and budget without ever scrimping on quality, service or value.
Your Bucket List Concierge™ will be happy to arrange all the details for you including:
B&B's, Hotels and Agriturism Properties
Villa Rentals and Packages
Independent Travel and Private Tours
Private Transfers
Escorted Tours
Pre and Post Cruise Packages
Pilgrimages
Heritage Visits
Rental Cars
Train and Bus Reservations
Wholesale air to/from the USA to Europe
With so many exciting options, designing an international vacation for you and your family or group on your own can be overwhelming. Let the Bucket List Concierge™ Team help.
Whether you wish to see the major cities or have an in-depth country experience, or have a special itinerary or heritage destination in mind, we're ready to answer your questions and make all of the arrangements, saving you money and precious vacation time and taking the stress out of arranging the perfect holiday.
Give your Bucket List Concierge™ a call today at 804-557-3006 or use the handy button below to send us an email.
Let us answer your Italy and Sicily vacation questions.
International Travel News
Family Friendly. There are more international escorted tour options this year for families.
Culinary Experiences. Look for more culinary activities on escorted tours that encourage engagement with the local community.
Cuba. People-to-people escorted tours are heavily booked but expensive. Don't expect 5-star service or polished resorts or hotels.
Ladies Day Out. The best deals for "Ladies Day Out" trips are at Caribbean and Mexico all-inclusive family resorts in January, February, May, September, October when the kids are back in school.
Europe. Europe is still on sale for the independent traveler with the strong dollar lowering vacation costs across the board
Fly Free. We have excellent limited-time offer fly-free deals with several major tour operators
Easter at the Vatican. There is still time to book hotels or tours that include Easter at the Vatican including an opportunity to attend Easter mass and hear the Pope's annual message at noon.
UK is Back. The British Pound has fallen dramatically against the US Dollar bringing more USA vacationers back to the United Kingdom of England, Wales, Scotland and Northern Ireland. London is still one of the most polluted cities in Europe.
The "Three I's" are Hot. We have heavy bookings for Iceland, Ireland and Italy. The Iceland summer season is short so call us to book tours early. Now is a good time to lock in 2018 visits.
Alaska / Canada. Our local Alaska suppliers are open for business and we're finding great deals for touring throughout the interior of Alaska and for your custom cruise shore excursions. However, as the cruise lines reserve space in the choice lodges, the best lodges and tours always enjoy heavy bookings. Don't delay your call to us! We are beginning to see sold-out dates in late July and early August.
Hawaii. The best deals are 3rd or 4th night free, free rental cars and free breakfast. A few resorts are even throwing in free golf.
Tahiti. Tahiti is a popular year-round destination. Each month we receive special prices on Bora Bora, Moorea, Tahiti, Taha'a and Yuamotu Atolls hotels as well as 7 and 10-day cruises out of Tahiti. Some offers include air from LAX, pre and post-cruise accommodations and transfers. Offers are always space limited.