Discover the relaxing world of river cruising.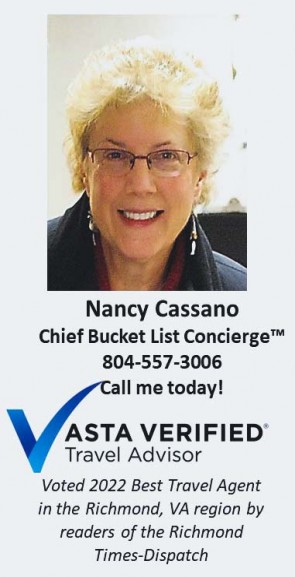 The word is out, river and coastal cruising is one the most pleasant ways to see the USA, Europe, Vietnam and even Africa. Unpack once and let the world come to you in style and safety with all-inclusive convenience.
River cruising is fun. The ships are smaller with generally from 100 to 200 guests on board. Open seating encourages the passengers to get to know each other. Sensible crew to passenger ratios allow everyone to really get to know the staff, and don't be surprised when the staff starts calling you by name and anticipates your tastes.
Land is never out of sight and your ship will moor downtown, allowing easy access to the sights.
We have made many friends onboard these floating hotels and we have found ourselves sailing again and again with them.
Call us today at 804-557-3006
We represent all the major river cruise companies.
Please Contact Me Regarding a River Cruise Vacation
We proudly represent the leading river cruise lines in Europe, the USA, Egypt, Africa and Southeast Asia.
American Queen Voyages

Tauck European River Cruising
Exclusive River Cruise Amenities
As a member of the Affluent Traveler Collection, we are proud to offer our clients these special amenities such as shipboard credit and pre-paid gratuities. These amenities are often combine-able with other national promotions.
Book your 2023/24 river cruise this month and let us put more money in your pockets.
Our Bucket List Concierge™ Service
You'll benefit from our contacts, buying power and special offers. We'll find you the best cruise deals, air specials, cabins, pre and post hotels and experiences and the appropriate travel insurance. You'll be thrilled as we custom design your entire holiday to your exact specifications.
The Perfect Group Holiday
River cruises are perfect group and family vacations…...We'll find you the best group rates and handle all the details for the entire group across all parts of the trip including flights, transfers, pre and post cruise hotels, travel insurance and more.
Let us show you how you can be rewarded as a group leader!
Not with a group? Join one of our groups and take advantage of our group rates…..click here for our specials
Comparing Cruise Lines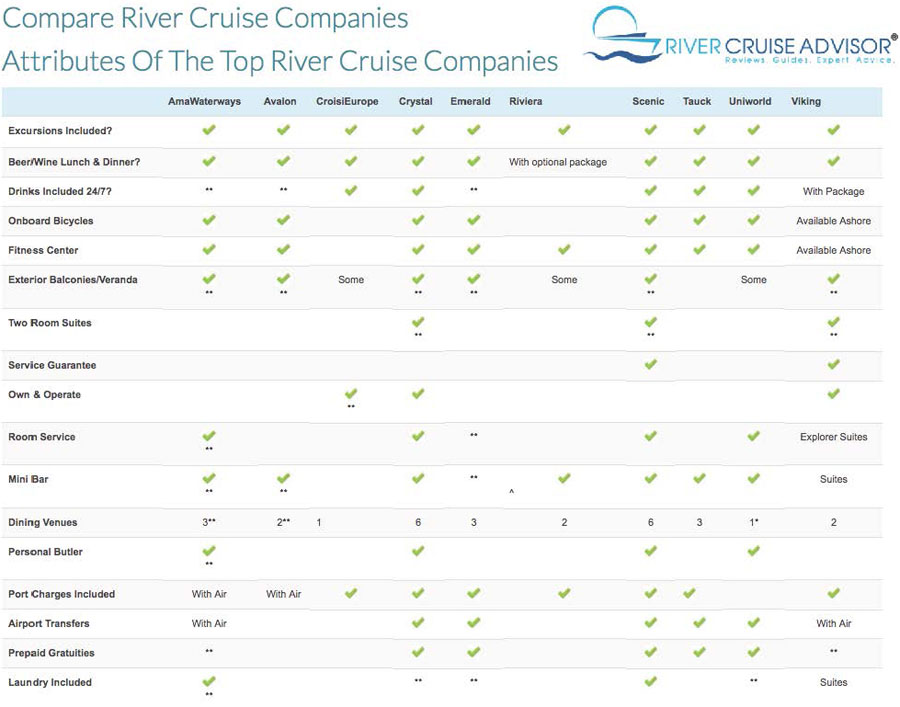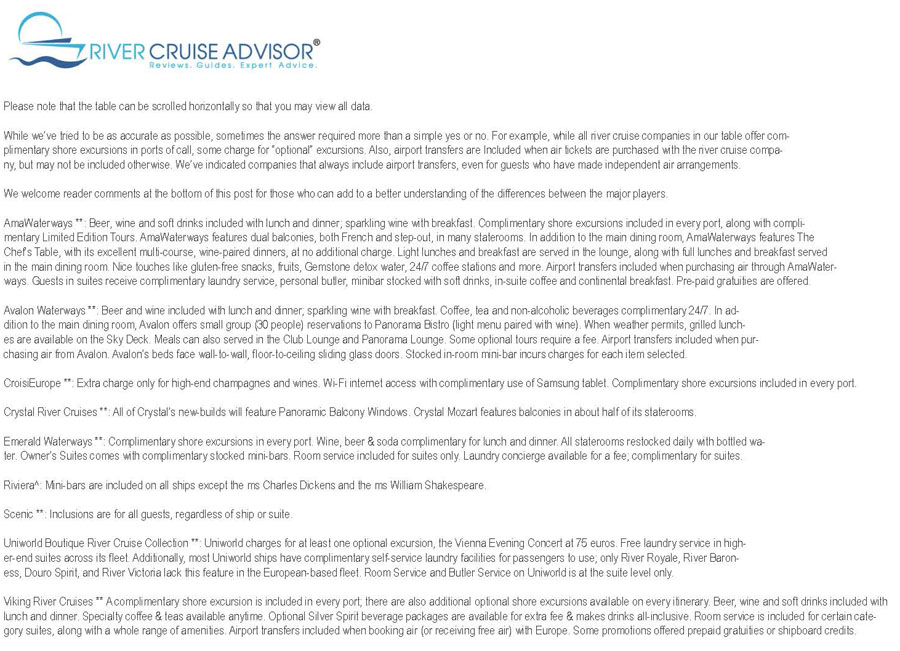 Around the Cruising World
Book Early. We are seeing cruises booked out from 9 months ahead. The best itineraries and staterooms – especially single staterooms - book early. We are booking into the 2022 season and for some cruise lines have opened their 2023 books for reservations.
Last Minute Cruise Deals. There are still early booking rates for select 2022 cruises and a few cruise lines are offering free or reduced air for itineraries in early spring or later in the year.
Southeast Asia is a Hot Market. Beyond the pun, we are seeing strong traffic for river cruises on the Mekong River through Vietnam/Cambodia and the Irrawaddy River in Myanmar.
Best River Cruise Offers. Free and reduced air deals are back but free air is mostly reserved for shoulder season itineraries for the early spring or late fall.
Theme Cruises. Popular "Theme" cruises such as wine cruises, Jewish heritage, art appreciation and more are being offered on some European itineraries.
Single Staterooms. Several cruise lines are now offering single traveler cabins. One supplier even hosts singles only cruising. Single cabins do book out early.
Enjoy Our Video Garden and Learn More About These Exceptional River Cruise Lines
Only AmaWaterways among all river cruise lines has been invited to join La Chaine des Rotisseurs, one of the world's most prestigious culinary organizations founded in 1950 in Paris. Membership is considered an achievement of world-class culinary acumen. AmaWaterways is also a 2015 Travvy winner for the Best River Cruise Line and "Best River Cruise Ship" (AmaSonata) as well as the Travel + Leisure, "World's Best Awards 2014." AmaWaterways sails the rivers of Europe, Russia, Vietnam & Cambodia, Myanmar and Africa.[click here for AmaWaterways Wine Cruise Brochure]
American Queen Voyages
Journey along the mighty Mississippi and Ohio rivers of the USA in style with the American Queen Voyages in the largest, most opulent riverboat in the world. Or retrace the paths of Lewis and Clark along the Columbia and Snake Rivers and marvel at the magnificent scenery of the Pacific Northwest. cruises are all-inclusive with complementary shore excursions. Starting this summer, AQV will also begin Alaska adventure cruises sailing between Sitka and Vancouver on the new Ocean Victory as well as Great Lakes cruises on the Ocean Voyager.
Avalon Waterways
A member of the Globus family of brands, Avalon Waterways takes travelers beyond the panoramic, uncompromised views of the ship, and provides them immersive access and storytelling in each destination, a plethora of itinerary and excursion choices and unparalleled flexibility in dining, services and amenities: All inspirationally designed to enhance their journey abroad. Avalon ships sail rivers in Europe, China [Yangtze], Vietnam & Cambodia [Mekong], Brazil [Amazon] and to the Galapagos Islands.
Scenic Cruises and Emerald Waterways
Scenic is a five-star, all-inclusive luxury European river cruise line with sophisticated, modern and spacious ships having no more than 169 passengers and a generous 3 to 1 guest-to-crew ratio. Scenic offers unlimited complimentary beverages including wines and premium spirits at any time, personal butler service, free WIFI, all shore excursions including Scenic Free-Choice and Scenic Enrich, complimentary electric-assisted bicycles, airport transfers, all gratuities and free air on some itineraries. In 2013 Scenic Cruises was recognized as the "Best Luxury Cruise Line" by the New York Travel Writers Society.
Click here for the current Scenic catalog
Scenic's sister line, Emerald Waterways, is coming on strong as an exceptional lower cost river cruise line with new ships with innovative designs such as a heated pool which transforms at night into a cinema, virtual balconies, larger cabins for the price and exceptional service.
Tauck European River Cruising
Recognized by the readers of Travel and Leisure in 2011, 2013 and 2014 as the #1 "World's Best River Cruise Line." Tauck's fleet of seven luxurious riverboats are custom designed to travel with from 118 to 130 guests in an intimate, club-like atmosphere, offers an unprecedented number of suites and amenities and boasts the highest staff to guest ratio in the business. Tauck's premier inclusive shore excursions give guests uncommon access to events and unique opportunities to connect with the local cultures. Tauck riverboats sail the Danube, Rhine, Moselle, Seine and Rhone Rivers.
A 2014 Conde Nast Traveler Gold List winner. Uniworld offers more European itineraries than any other river cruise line, and more options for guests to personalize their Uniworld river cruise with innovative onshore programs, including "Choice Is Yours," "Go Active," and "Gentle Walking" options. Uniworld's ships sail the rivers of Europe, Russia, Vietnam & Cambodia, China and Egypt.
Prides itself on providing value and a high-quality experience for its passengers. Viking River Cruises is a four time Cruise Critic's award winner including the Best River Cruise Line for 2013 Award. Fodor Travel recognized the Viking "Legends of the Rhine" cruise as one of the "World's Best Cruises for 2015." Viking boasts the largest fleet of state-of-the-art vessels in the industry and in-depth destination experiences sailing the rivers of Europe, Russia, Ukraine, China, Vietnam & Cambodia and Myanmar. In 2018 Viking will expand into the US market to offer Mississippi River excursions out of New Orleans.
Give your Bucket List Concierge™ a call today at 804-557-3006 or use the handy button below to send us an email.
Let us answer your river cruise vacation questions.